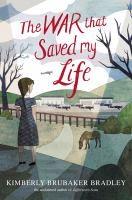 The war that saved my life / by Kimberly Brubaker Bradley.
Author
Bradley, Kimberly Brubaker, author.
Physical Description:
316 pages ; 22 cm
Abstract:
A young disabled girl and her brother are evacuated from London to the English countryside during World War II, where they find life to be much sweeter away from their abusive mother.
This item has been checked out 25 time(s)
and currently has 0 hold request(s).