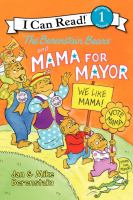 The Berenstain Bears and Mama for mayor! / Jan & Mike Berenstain.
Author
Berenstain, Jan, 1923-2012.
Imprint
New York : Harper, 2012.
Physical Description:
32 p. : col. ill. ; 24 cm.
Abstract:
Make your way to the ballot box --- Mama is running for mayor! There are lots of improvements to be made in Bear Country, and Mama has a plan. She's going to fix the roads, pick up the trash, and replace the broken streetlights. But will she promise too much?
This item has been checked out 27 time(s)
and currently has 0 hold request(s).