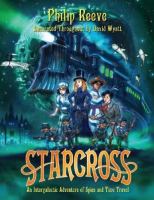 Starcross, or, The coming of the moobs!, or, Our adventures in the fourth dimension! : a stirring adventure of spies, time travel and curious hats / as narrated by Art Mumby, (& Miss Myrtle Mumby) to their amanuensis, Philip Reeve ; and illuminated throughout by David Wyatt.
Author
Reeve, Philip.
Imprint
New York : Bloomsbury Children's Books : Distributed to the trade by Holtzbrinck Publishers, 2007.
Physical Description:
368 p. : ill. ; 19 cm.
Abstract:
Young Arthur Mumby, his sister Myrtle, and their mother accept an invitation to take a holiday at an up-and-coming resort in the asteroid belt, where they become involved in a dastardly plot involving spies, time travel, and mind-altering clothing.
This item has been checked out 18 time(s)
and currently has 0 hold request(s).