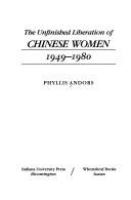 The execution of Mayor Yin, and other stories from the great proletarian cultural revolution / Chen Jo-hsi ; translated from the Chinese by Nancy Ing and Howard Goldblatt.
Author
Ch'en, Jo-hsi.
Imprint
Bloomington : Indiana University Press, c1978.
Physical Description:
xxviii, 220 p. ; 22 cm.
Note: Content
The execution of Mayor Yin.--Chairman Mao is a rotten egg.--Night duty.--Residency check.--Jen Hsiu-lan.--The big fish.--Keng Erh in Peking.--Nixon's press corps.
This item has been checked out 2 time(s)
and currently has 0 hold request(s).