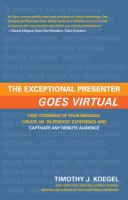 The exceptional presenter goes virtual : take command of your message, create an "in-person" experience, and captivate any remote audience / Timothy J. Koegel.
Author
Koegel, Timothy J.
Imprint
Austin, TX : Greenleaf Book Group Press, 2010.
Physical Description:
178 p.
This item has been checked out 7 time(s)
and currently has 0 hold request(s).