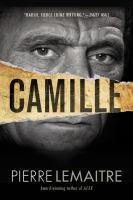 Camille / Pierre Lemaitre ; translated from the French by Frank Wynne.
Author
Lemaître, Pierre, 1951-
Physical Description:
266 pages ; 24 cm
Abstract:
When Anne is attacked and stalked by a bank robber she can identify, Commandante Camille Verhoeven vengefully breaks all the rules to protect the woman he loves.
This item has been checked out 5 time(s)
and currently has 0 hold request(s).