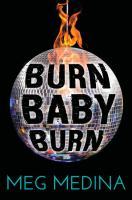 Burn baby burn / Meg Medina.
Author
Medina, Meg, author.
Physical Description:
310 pages ; 22 cm.
Abstract:
Nora Lopez is seventeen during the summer of 1977, when New York is besieged by arson, a massive blackout, and a serial killer named Son of Sam. Meg Medina transports us to a time when tempers and temperatures ran high to share the story of a young woman who discovers that the greatest dangers are often closer than we like to admit.
This item has been checked out 3 time(s)
and currently has 0 hold request(s).