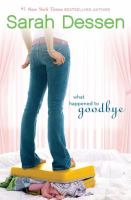 What happened to goodbye / Sarah Dessen.
Author
Dessen, Sarah.
Imprint
New York : Viking, 2011.
Physical Description:
402 p. ; 22 cm.
Abstract:
Following her parents' bitter divorce as she and her father move from town to town, seventeen-year-old Mclean reinvents herself at each school she attends until she is no longer sure she knows who she is or where she belongs.
This item has been checked out 21 time(s)
and currently has 0 hold request(s).