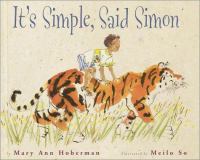 "It's simple," said Simon / by Mary Ann Hoberman ; illustrated by Meilo So.
Author
Hoberman, Mary Ann.
Imprint
New York : Knopf, 2001.
Physical Description:
p. cm.
Abstract:
After successfully meeting the challenges posed by a dog, cat, and horse, Simon meets a tiger that is much harder to satisfy and that he must outwit before he becomes the tiger's dinner.
This item has been checked out 38 time(s)
and currently has 0 hold request(s).