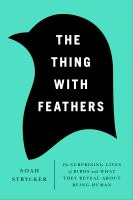 The thing with feathers : the surprising lives of birds and what they reveal about being human / Noah Strycker.
Author
Strycker, Noah K.
Physical Description:
288 pages.
Abstract:
"The Thing with Feathers by Noah Strycker is a fun and profound look at the lives of birds, illuminating their surprising world--and deep connection with humanity"-- Provided by publisher.
This item has been checked out 9 time(s)
and currently has 0 hold request(s).