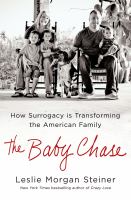 The baby chase : how surrogacy is transforming the American family / Leslie Morgan Steiner.
Author
Steiner, Leslie Morgan.
Physical Description:
289 pages.
Abstract:
"Rhonda Wile and her husband Gerry struggled for years with infertility. With perseverance shocking to all around them, there wasn't a procedure they wouldn't and didn't try--unsuccessfully--until they decided to look for a surrogate. Once considered a desperate, even morally suspect option, surrogacy had started to claim headlines and transform the lives of celebrities like Nicole Kidman and Elton John. For Rhonda, surrogacy seemed like an impossible and unaffordable dream, until she came across the beaming smile of a beautiful Indian woman on the internet. Within a few short months, she had embarked on a journey that would take her into the shadowy, emerging world of Indian carriers and the global surrogacy community. In The Baby Chase, acclaimed writer Leslie Morgan Steiner weaves the stories together-- of a nurse, a firefighter, and the Indian gestational carrier who made their baby dreams come true. Moving, page-turning, and meticulously researched, this deeply complex human journey is paired with an examination of the issues--religious, legal, medical and emotional--that shapes surrogacy as a solution both exciting and imperfect. Steiner revels in the joy that ultimately infuses one couple's lives when--against the odds--their intense, almost irrational desire to bear a child meets with success"-- Provided by publisher.
This item has been checked out 2 time(s)
and currently has 0 hold request(s).