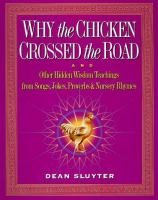 Why the chicken crossed the road : & other hidden enlightenment teachings from the Budda to Bebop to Mother Goose / Dean Sluyter ; illustrated by Maggy Sluyter.
Author
Sluyter, Dean.
Imprint
New York : J.P. Tarcher/Putnam, c1998.
Physical Description:
272 p. : ill. ; 19 cm.
This item has been checked out 20 time(s)
and currently has 0 hold request(s).