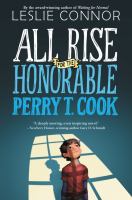 All rise for the Honorable Perry T. Cook / Leslie Connor.
Author
Connor, Leslie, author.
Physical Description:
381 pages ; 22 cm.
Abstract:
"Eleven-year-old Perry was born and raised by his mom at the Blue River Co-ed Correctional Facility in tiny Surprise, Nebraska. His mom is a resident on Cell Block C, and so far Warden Daugherty has made it possible for them to be together. That is, until a new district attorney discovers the truth--and Perry is removed from the facility and forced into a foster home. When Perry moves to the "outside" world, he feels trapped. Desperate to be reunited with his mom, Perry goes on a quest for answers about her past crime. As he gets closer to the truth, he will discover that love makes people resilient no matter where they come from .. but can he find a way to tell everyone what home truly means?" -- provided by Amazon.com
This item has been checked out 7 time(s)
and currently has 0 hold request(s).