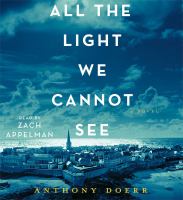 All the light we cannot see [a sound recording] / Anthony Doerr.
Author
Doerr, Anthony, 1973-
Physical Description:
13 compact discs (approx. 16 hrs.) Unabridged fiction
Abstract:
A blind French girl on the run from the German occupation and a German orphan-turned-Resistance tracker struggle with respective beliefs after meeting on the Brittany coast.
This item has been checked out 14 time(s)
and currently has 0 hold request(s).