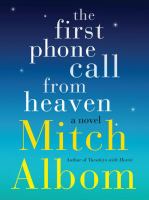 The first phone call from heaven / Mitch Albom.
Author
Albom, Mitch, 1958-
Physical Description:
326 pages.
Abstract:
Takes readers on a journey both of individual healing and society's response to the question of life after life, follows a single father just released from prison as he sets out to prove that the mysterious calls from beyond to the residents of Coldwater, Michigan are nothing but a hoax.
This item has been checked out 49 time(s)
and currently has 0 hold request(s).